We are currently only shipping to locations within the province of Ontario, Canada.

***ALL ORDERS OVER $250 RECEIVE FREE SHIPPING***
(Some remote location exclusions apply.)


1. Do you ship to my area?
We are switching couriers to a provider that drives refrigerated trucks and specializes in delivering cold and frozen products because we want to ensure the best service to all our customers.

With this service, our shipping area covers all of South, Central, and Eastern Ontario, and will stretch further north to areas like Sudbury and North Bay. Please see the referenced Shipping Map for area coverage.

If you are outside of this area, we can still ship using our current method - contact us for details and a shipping quote.

We are not able to ship to other provinces or internationally at this time.
2. How do I track my shipment?
When we fulfil your order, you will automatically receive email updates about your product with a tracking number so you can follow your beef!  
3. How long does it take for my shipment to arrive?

Please remember that we choose to only ship our frozen orders on Mondays and Tuesdays. We do this because we don't want you to be disappointed. It would be incredibly unfortunate for your package of beef to be stuck in transit over a weekend and arrive thawed! In order to avoid this situation, we only ship at the beginning of the week, and our courier service guarantees 2-3 day shipping.



4. What kind of packaging do you use to ship frozen beef?
Our solid boxes are lined with a 1.5" thick insulated liner made from recycled paper, and they are fully biodegradable or curbside recyclable.

We then line the box with a poly bag to ensure there are no moisture issues that could compromise the box integrity, and layer the order with gel packs and/or dry ice.

We have personally tested our packouts to keep the products frozen for over 48hrs.

Our boxes, liners, butcher wrap, and plastic liner are all curbside recyclable; and our gel packs are high quality and easy to reuse.



5. What if my product arrives thawed?
We take great care to ensure that your beef is packaged with high RF value insulation (fully recyclable!), and enough gel packs &/or dry ice to stay frozen until you can get it into your own cold storage.

That being said, we have to be prepared. Transit might not be perfect, but we want your experience with us to be. So, we have a 100% guarantee on our products. Please contact us directly at 519-495-5989 (Ron) or 226-234-4462 (Kathryn) so that we can make it right. We will either be able to issue you a refund or send another shipment.
6. Do you offer faster shipping options?
Our online store does not offer overnight shipping options because we find it to be fairly expensive, and most people are not in such dire need of bulk beef that <24hrs is necessary. However, if you have an emergency (like you forgot about that business dinner with a new client!) you can contact us directly for a shipping quote and we'll let you decide from there.
7. How do you ship gift cards?
Our gift cards are currently digital, so you will have them emailed direct to your inbox within minutes!



8. Do you offer discounts if I pickup at the farm?

YES WE DO!
Why? Two reasons.
First, if you pick up on farm and are driving it home to your freezer, a box of frozen beef will stay frozen for hours even without our cold packs and insulation liners (we still recommend bringing a cooler). We both save $.
Second, we LOVE when our customers visit our farm. It brings us so much joy to share our love of farming, animals, and rural Ontario with new friends. Are we bribing you to visit us...? Maybe. Will you love it here? Absolutely!

Every regular priced order receives $25 off if you pick up on farm, and for larger bulk orders of 1/4, 1/2, and whole beef that steps up to $50, $75, & $150 for on-farm pickup.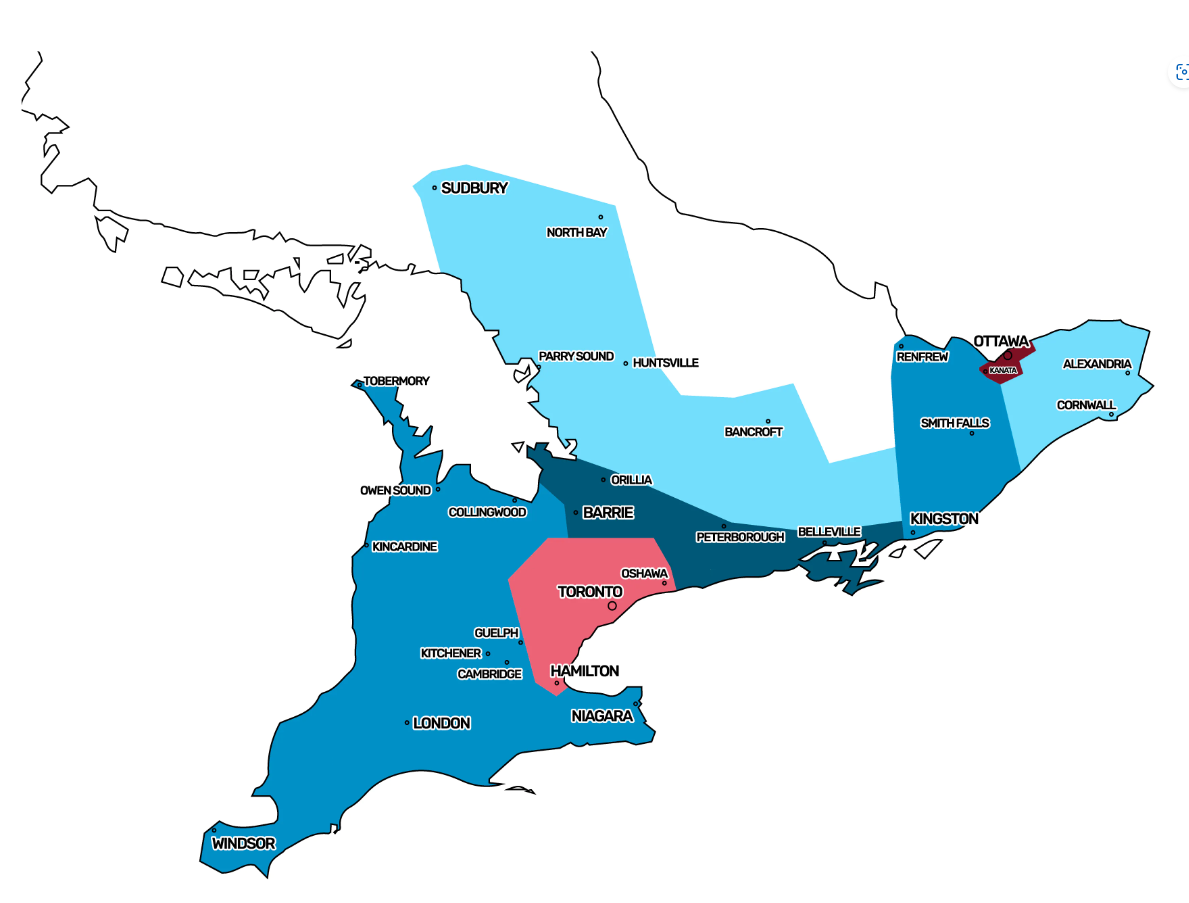 Shipping Regions
We guarantee your product will arrive "Fast & Frozen"!

Our refrigerated shipping provider covers every colour highlighted on the map - from Windsor to Cornwall, and up to Sudbury. We feel this will be the best option for ensuring your beef will arrive cold and clean in 2-3 days - especially with hot summer weather!

For shipping outside these areas, please contact us directly for a shipping quote.
Contact Us
ON FARM PICKUP

Saturday mornings: 9am - 12 noon

Most orders will be ready the Saturday following your online purchase date.

Map us

SHIP TO HOME

We use a local refrigerated truck courier service to ensure your beef shows up fast and frozen!

We always ship orders on Mondays or Tuesdays to ensure your package doesn't get caught in transit over the weekend.

Your beef should arrive in 2-3 days from leaving the farm.

All orders over $250 receive FREE SHIPPING.

EXTRA INFO

Keyser Creek Farms is located in a small village in Southwestern Ontario, called Keyser.

Half way between London and Sarnia, we are easy to get to - only 5 minutes north of the 402 highway
(and yes - we're on a paved road!)

**OUR COURIER HAS LIMITED NORTHERN SERVICE
Please see our map for shipping boundaries.

Shipping Map